Injector
Injectors come in many different designs.
In addition, it is important that we can recognize the correct injectors and select them based on the following criteria:
Ohmic resistance or impedance
Fit / execution
Yield amount in cc per minute (cc / min)
Ohmic resistance of injectors.
We can roughly divide the injectors in impedance into 2 groups:
<4 Ohm = Low impedance injector
> 10 Ohm = High impedance injector
Low impedant injectors
By default NOT supported by the EFIgnition. These injectors have a coil with very low resistance. This results in a very high current. The only correct way of controlling these injectors is by means of a "Peak & Hold" circuit. The injector is then pulled open at 4 Ampere, after which the current is squeezed back to 1 Ampere. Due to the high opening current, the injector is quickly pulled open and due to the low holding current, it also closes quickly again. The technique of low impedance injectors is outdated by modern injectors with very low inertia for the valve, so that a strong coil is no longer needed.
High impedance injectors
These injectors are supported by the EFIgntion. The modern types give a very short and stable opening time. The later types of these injectors give a very nice misting so that little precipitation occurs in the inlet. The engine therefore runs more economically and more stably.
Fitment
In terms of fit, there are various injectors. The lengths vary, but also the shape and the closure in the head and on the fuel rail.
The most famous injectors:
Bosch style
EV1
EV6
EV14
Versions on the Bosch style
Pico injector
EV12
Denso style injectors
Botum feed injectors
Injector flow
The yield of the injector is very important. This must be large enough to allow sufficient fuel to be injected under full load at maximum speed in the short time available. But on the other hand, it must not be too large so that the dosability in part load / idle run is still sufficient.
Various calculators can be found to calculate the correct injector size. Google on "injector calculator".
The connection
Connecting an injector is fairly easy. See the example below for a four-cylinder.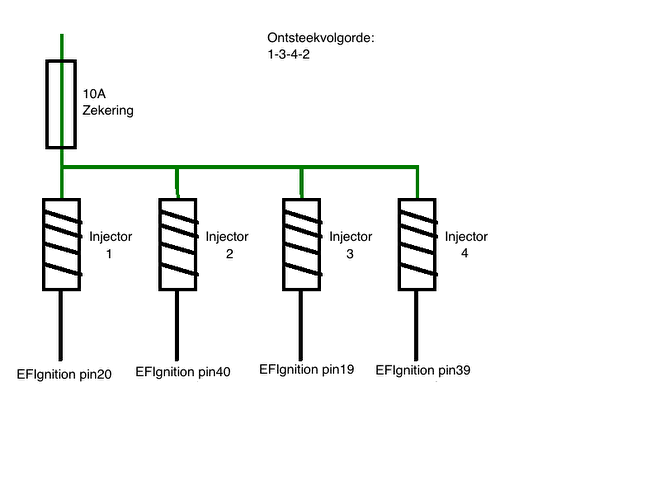 Shopping cart
No items in shopping cart.